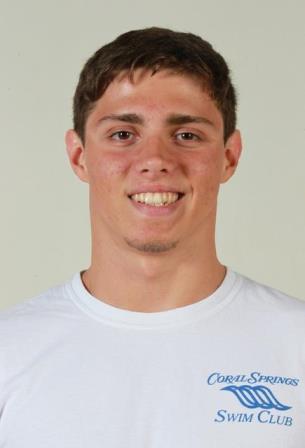 When he won the 200-yard breastroke at the 2013 Winter Nationals last year, CSSC's Ilya Evdokimov joined a list of firsts. The feat never was achieved before by a Coral Springs Swim Club athlete.
"Ilya is a very talented swimmer," CSSC Head Coach, Bruno Darzi, said of the champion. "He has developed into one of the best 18 and under swimmers in the country and I'm excited to see what the future holds for him."
___________
Graduating from Taravella High School in Coral Springs this month, Evdokimov has competed against top swimmers in Florida and around the country. Prior to his national win in Tennessee, he took the high school state title for Taravella in the 100-yard breaststroke.
Although "being the best" is in the swimmer's sights, the 18-year-old Russian immigrant had his doubts at one point. After moving to the United States at age 11, he quit swimming for a few years to adjust to school and life in the states. He got back in water at age 15 and since has strived to excel in the sport.
"At first it was hard mentally, because I would see fast swimmers and sometimes wonder about how good I could have been if I didn't stop," he said. "Now, I want to see how good I can get and how far I can take my swimming career," he said.
After gaining early acceptance to Cornell University in December, Evdokimov may get the chance. Cornell's Big Red Bears are constantly re-inventing the record book and last year closed out the Ivy League season number eight. Moreover, Evdokimov's breastroke is powerful - and with times that top national averages in 100 and 200 meter/yard events will be an asset to the team.
In addition to swimming at Cornell, Evdokimov plans to major in biology and pursue a medical curriculum. A weighted high school GPA of 5.2 sets the stage for strong academic success, as do Advanced Placement studies in science and math.
"I always wanted to be a doctor. Helping people fits me best," he said.
Aside from the sport making him "stronger, bigger and fitter," swimming has shown him that "all good things take time and everything hard eventually passes," Evdokimov said. Most importantly, "attitude affects results," something he admires in Michael Phelps. Evdokimov respects the uber-Olympian for being mentally tough in his back half and for trying new things in the water and out.
"Swimming as also taught me time management, sacrifice and teamwork. It's a big part of who I am and it's part of my everyday life," he said.
Edokimov credits CSSC coaches for him getting back in the water after a three-year hiatus. They fixed his technique, honed his racing strategies and increased his speed. For that, he's eternally grateful, he said.
"They got me to the level where I'm at today. I can see the results of their hard work both in myself and in the rest of the swimmers in their groups."
Evdokimov eats Cocoa Puffs before meets. "I'm not sure how it started, but since I found it it's been working for me," he said.
Afterwards - time with friends, favorite foods and a long sleep.
Does Evdokimov think about the Olympics?
Yes.
Does he think he can make the Olympic team?
Anything is possible.
Will he go for it?
Time will tell.